Le chercheur d'Eco&Sols en poste au Vietnam (Didier Lesueur) est accueilli par 1 centre du CGIAR : L'Alliance Bioversity Internationale et l'International Center for Tropical Agriculture d'Hanoi ou CIAT-Hanoi lui-même hébergé par la structure Vietnamienne de l'Agriculture Genetic Institute (AGI).
Les activités d'Eco&Sols au Vietnam s'insère dans le Dispositif en Partenariat du Cirad, Agroecology for South East Asia (ASEA) research and training platform in partnershi . Elles portent la promotion des pratiques agro-écologiques visant une amélioration de la santé des sols. Les projets en cours portent sur les systèmes à base de café robusta et de poivre noir dans la région des Hauts Plateaux (Central Highland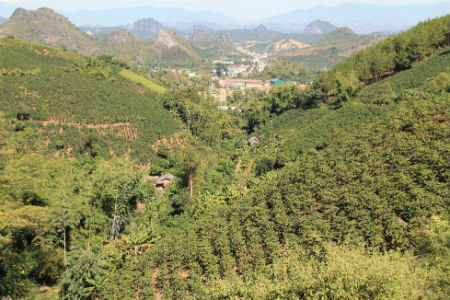 s), sur les associations légumineuses annuelles et céréales (niébé/maïs) ou légumineuses et plantes à tubercules comme le manioc dans la Province de Yen Bai au Nord du Vietnam et sur l'incidence du mode de gestion des plantations de thé vert (organique versus conventionnel) sur la santé des sols dans la Province de Thai Nguyen toujours au Nord du Vietnam. Ces projets sont financièrement supportés par l'Agence Française de Développement (AFD), la Coopération Australienne (ACIAR) et Deakin University à Melbourne en Australie.
Le CIRAD avec ses partenaires de l'Alliance, d'AGI et de Deakin University en Australie, sont les membres fondateurs d'un réseau Asia-Pacifique sur les biotechnologies microbiennes qui s'appelle le Common Microbial Biotechnology Platform. Ce réseau vise à promouvoir l'agro écologie via des pratiques améliorant la santé des sols en combinaison avec l'utilisation de bio-inoculants microbiens. Actuellement ce réseau comprend une quarantaine de membres répartis dans 17 pays différents, dont l'essentiel est en Asie et dans le Pacifique. En plus du réseau, les 4 membres fondateurs ont créé sur Hanoi une plateforme technique sur les biotechnologies microbiennes et cette plateforme fait partie intégrante du dispositif de recherche de l'UMR Eco&Sols. Au sein de cette plateforme, des travaux de recherche y sont menés et des étudiants y sont co-supervisés, il s'agit à la fois d'étudiants Européens mais aussi Asiatiques (Vietnamiens, Thaïlandais, Cambodgiens). Plusieurs étudiants en Licence, Master et en thèse de Doctorat qui ont fait leurs travaux de recherche au sein de notre plateforme à Hanoi ont été diplômés. Ces aspects de formation sont renforcés par une implication forte dans des cursus d'enseignements qui se traduisent par des cours qui sont donnés aux étudiants des filières internationales. Pour le moment les activités en cours sont uniquement au sein des Universités Vietnamiennes qui ont rejoint le réseau CMBP.
D'un point de vue régional, CMBP renforce fortement les activités collaboratives que ce soit en au Nord du Cambodge avec l'Université de Battambang sur les plantations d'hévéa ou encore avec l'Université de Chiang Mai au Nord de la Thaïlande sur les plantations organiques de café arabica. Nous avons aussi parmi les membres de CMBP 2 prestigieuses Académies Chinoise en Agriculture (CAAS – Chinese Academy of Agricultural Science & CATAS - Chinese Academy of Tropical Agricultural Science). Si les activités de collaboration avec la CAAS sont essentiellement en Chine (cultivars de soja et leurs partenaires symbiotiques), en revanche avec le CATAS, la collaboration est bien plus régionale puisqu'elle implique dans travaux de recherche sur les plantations d'hévéa au Cambodge et très prochainement au Vietnam. Le fait de disposer de l'Asia-Pacific Association of Agricultural Research Institutions (APAARI) est stratégiquement très important car nous pouvons bénéficier de leur important réseau de partenaire et de décideurs politiques qui peuvent nous aider à promouvoir toutes ces pratiques agro écologiques.
Projets menés au Vietnam
Do legume-based intercrops concurrently halt soil erosion, boost soil health and strengthen (natural) pest control services in cassava cropping systems of Northern Vietnam? financé par l'Agence Française de Développement via le projet ACTAE (Towards an agroecological transition in SE Asia)
Culture du soja en Asie du Sud Est – quelle est l'inoculation avec rhizobium appropriée pour les paysans : financé par l'Agence Française de Développement via le projet ACTAE (Towards an agroecological transition in SE Asia)
Can agroecological management practices result in sustainable tea production in Thai Nguyen province, Northern Vietnam? Finance par Deakin University.
Identifying entry points for black pepper and coffee production in the Central Highlands in Vietnam : financé par Australian Centre for International Agricultural Research (ACIAR).
Enhancing smallholder livelihoods in the Central Highlands of Vietnam through improving the sustainability of coffee and black pepper farming systems and value chains: financé par Australian Centre for International Agricultural Research (ACIAR).
Partenaires
International Center for Tropical Agriculture (CIAT)-Asia
Agricultural Genetics Institute, Phạm Văn Đồng, Cổ Nhuế, Từ Liêm, Hà Nội
Hanoi
Vietnam
Agricultural Genetic Institute
Phạm Văn Đồng, Cổ Nhuế, Từ Liêm, Hà Nội
Hanoi
Vietnam
Deakin University
221 Burwood Highway
Burwood VIC 3125
Australia
Melbourne
Australia
Chinese Academy Agricultural Sciences
12 Zhongguancun South Street, Haidian District, 100081, Beijing, China
Beijing
China
Chinese Academy Tropical Agricultural Sciences
4 Xueyuan Rd, Longhua Qu, Haikou Shi, Hainan Sheng, China, 571101
Haikou
China
Chiang Mai University
239 Huay Kaew Road, Tambon Su Thep, Amphoe Mueang Chiang Mai, Chang Wat Chiang Mai 50200, Thailand
Chiang Mai
Thailand
Can Tho University
Khu II, Ba Tháng Hai, Xuân Khánh, Ninh Kiều, Cần Thơ
Can Tho
Vietnam
University of Battambang
University Rd, Krong Battambang, Cambodia
Battambang
Cambodia
Suranaree University of Technology
111, Maha Witthayalai Rd, Suranari, Mueang Nakhon Ratchasima District, Nakhon Ratchasima 30000, Thailand
Thailand
BGI - Institute of Metagenomic
Building No.7, BGI Park, No.21 Hongan 3rd Street,
Yantian District,Shenzhen
518083, China
Shengzhen
China
Department of Agricultural Research
Yezin 15013, Myanmar (Burma)
Yezin
Myanmar
Northern Mountainous Agriculture and Forestry Science Institute (NOMAFSI)
Phú Hộ, Phú Thọ, Phu Tho Province
Phu Tho
Vietnam
Indonesian Soil Research Institute
Tentara Pelajar no. 12 Bogor, Jawa Barat, 16114
Bogor
Indonesia
Agricultural Systems Institute
College of Agriculture and Food Science
University of the Philippines Los Banos
University of the Philippines Los Banos, Lopez Avenue, Los Baños, 4030 Laguna, Philippines
Los Baños
The Phillippines
Plant Protection Research Institute
Phố Viên, Đông Ngạc, Từ Liêm, Hà Nội
Hanoi
Vietnam
Vietnam National University
334 Nguyễn Trãi, Thanh Xuân Trung, Thanh Xuân, Hà Nội, Vietnam
Hanoi
Vietnam
Vietnam National University of Agriculture
Đại Học Nông Nghiệp, Viện Sinh học Nông nghiệp, Trâu Quỳ, Gia Lâm, Hà Nội, Vietnam
Hanoi
Vietnam
University Hasanuddin
Jl. Printis Kemerdekaan KM 10 Tamalanrea. Gedung Fakultas Pertanian Lantai 3
Makassar, Sulawesi
Indonesia
Institute of Subtropical Crops, Guizhou Academy of Agricultural Sciences (GAAS)
No.1, East Road, Xiawutun Town, Xingyi City, Guizhou Province
Guizhou
China
Department of Plant Protection, Faculty of Agriculture, University Putra Malaysia
43400 UPM Serdang
Selangor
Malaysia
Department of Soil and Environmental Sciences, National Chung Hsing University
250 Kuo Kang Road Taichung City 40227
Taichung
Taiwan
Tay Nguyen University
567 Le Duan Str. Buon Ma Thuot, Dak Lak province
Buon Ma Thuot
Vietnam
Sugarcane Research Institute
Uda Walawe 70190
Uda Walawe
Sri Lanka
Center for Agricultural Economics and Innovation Development - Mongolian University of Life Sciences
17024 Zaisan - 5, Khan-Uul district
Ulaanbaatar
Mongolia
Faculty of Agriculture University of Ruhuna
Mapalana, Kamburupitiya 81100
Kamburupitiya
Sri Lanka
McCormick Global Ingredients
Hunt Valley, Maryland
Cockeysville
USA / Vietnam
Gaia Vita Co., Ltd
Sisangvone Road, Unit 05, House 090
Ban Naxay, Saysettha district
Vientiane
Lao PDR
Asia-Pacific Association of Agricultural Research Institutions (APAARI)
FAO Annex building, 202/1 Larn Luang Road, Pomprab Sattrupai
Bangkok 10100
Bangkok
Thailand
Western Sydney University
Locked Bag 1797, Penrith, NSW 2751
Penrith
Australia
WASI - Pepper research and development center
322 Truong Chinh, Pleiku, Gia Lai, Vietnam
Pleiku
Vietnam
Institute of Microbiology and Biotechnology
Nha E2 - 144 Duong Xuan Thuy, Hanoi, Vietnam
Hanoi
Vietnam
World Vegetable Center
East and Southeast Asia P.O. Box 1010 (Kasetsart University) Bangkok 10903, Thailand
Bangkok
Thailand
International University of Business Agriculture and Technology (IUBAT)
4 Embankment Drive Road, Uttara Model Town
Sector No. 10, Dhaka-1230
Dhaka
Bangladesh
Contact
This email address is being protected from spambots. You need JavaScript enabled to view it., CIRAD
Senior Soil Microbiologist at CIRAD, UMR Eco&Sols, Montpellier, France
Associate Senior Researcher at the Alliance of Bioversity International and CIAT, Hanoi, Vietnam
Adjunct Associate Professor at Deakin University, Melbourne, Australia
Current address : Alliance of Bioversity International and CIAT
Asia hub, Common Microbial Biotechnology Platform (CMBP)
Agricultural Genetics Institute, Km 2, Pham Van Dong St., Bac Tu Liem District │ Hanoi, Vietnam
+84 382746105 / +84 1257375503