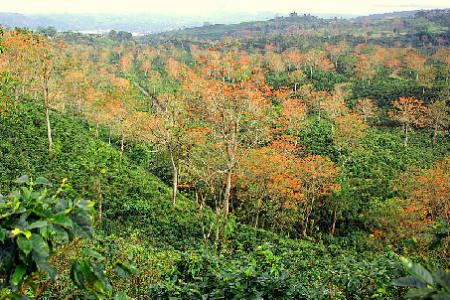 Eco&Sols is hosted on the Tropical Agricultural Research and Higher Education Center (CATIE) site in Costa Rica, which studies agroforestry systems for coffee, a permanent crop.
As part of the Coffee-Flux observatory, CATIE has a flux tower with an eddy-covariance measurement system and instruments for measuring soil and plant water flows at plot scale and hydrology at basin scale. The site has plots for adjusting fertiliser use in combination with shade (4 levels) and for monitoring soil N2O and CO2 emissions using automatic chambers. The site is part of the long term Forest ecosystem functioning (F-ORE-T) network, set up by the Observation and Experimentation for Environmental Research systems (SOERE) - and has applied to join the Infrastructure for Analysis and Experimentation on Ecosystems (AnaEE) together with the sister site at Tarrazu and the CATIE agroforestry and management trial.
CATIE has a routine soil analysis laboratory (soil preparation, standard analyses: Ksat, pF, texture, OM, mineral N, pH, exchange properties). It has the equipment required for soil particle size fractionation, densitometry and soil incubation to measure microbial activities. CATIE also has a remote sensing laboratory (Geographic Information System) and a global climate change laboratory.
Research projects
Partners
Aquiares farm: MSc. Don Alfonso Robelo (CEO); MSc. Diego Robelo; MSc. Guillermo Ramirez; MSc. Rafael Vargas; MSc.Manuel Jara; MSc. Alonso Barquero
CATIE: Prof. Francisco Jiménez; Prof. Jeffrey Jones; Prof. Nelly Vasquez; Prof. Tamara Benjamin; Prof. Pablo Imbach; PhD std Luis Molina; MSc. Patricia Leandro
UNA-Stable Isotope Research Group: Universidad Nacional, Heredia Costa Rica. Ricardo Sánchez-Murillo; Kristen Welsh.
World Meteorological Organization (WMO, Costa-Rica): Dr. Federico Gómez-Delgado
Instituto Costarricense de Electricidad (ICE, Costa-Rica): Dr. Federico Gómez-Delgado
Universities and Research centres in France and abroad
. CIRAD : Dr. Anne Clément-Vidal
. Idaho University (USA) : Dr. Lee Vierling; Dr. Jan Eitel; Prof. Jan Boll
. Swedish University of Agricultural Sciences (SLU): Prof. Anders Malmer; Dr. Ulrik Ilstedt
. UMR iEES : Dr. Christian Valentin; Dr. Christian Hartmann
. UMR ISPA: Jean-Marc Bonnefond, Dr. Denis Loustau, Dr. Delphine Picart, Prof. Jean-Christophe Domec
. UMR-AMAP, Montpellier : Dr. Jean Dauzat; Dr. Alexia Stokes; Dr. Hervé Rey; Dr. Thierry Fourcaud; Dr. John Kim
. UMR-CEFE, Montpellier : Dr. Catherine Roumet; Dr. Ivan Prieto-Aguilar
. UMR-EEF, INRA Nancy : Dr. Erwin Dreyer (Président de Centre INRA);
. UMR-LISAH, INRA Montpellier : Dr. Roger Moussa, Dr. Yves Le Bissonnais, Dr. Marc Voltz
. UMR-PIAF, INRA Clermont-Ferrand : Dr. André Lacointe
. University of Copenhagen: Prof. Anders Priemé; Prof. Bo Elberling; Dr. Rasmus Kjoller.
. University of Macquarie NSW-Australia: Dr. Belinda Medlyn.
. University of Oslo: Prof. Lars Gottschalk; Dr. Irina Krasovskaia; Prof. Nils Roar
. University of Toronto: Dr. Marney Isaac
. University of Viçosa, Brazil: Prof. Fabio Da Matta; PhD std. Junior Pastor Perez Molina
. University of Western Sydney-Australia: Dr. Remko Duursma
Publications
Kinoshita R, Roupsard O, Chevallier T, Albrecht A, Taugourdeau S, Ahmed Z, van Es HM. 2016. Large topsoil organic carbon variability is controlled by Andisol properties and effectively assessed by VNIR spectroscopy in a coffee agroforestry system of Costa Rica. Geoderma, 262: 254-265. http://dx.doi.org/10.1016/j.geoderma.2015.08.026
Sánchez-Murillo R, Birkel C, Welsh K, Esquivel-Hernández G, Corrales-Salazar J, Boll J, Brooks E, Roupsard O, Sáenz-Rosales O, Katchan I, Arce-Mesén R, Soulsby C, Araguás-Araguás LJ. 2016. Key drivers controlling stable isotope variations in daily precipitation of Costa Rica: Caribbean Sea versus Eastern Pacific Ocean moisture sources. Quaternary Science Reviews, 131, Part B: 250-261. http://dx.doi.org/10.1016/j.quascirev.2015.08.028
Benegas, L., Ilstedt, U., Roupsard, O., Jones, J.R., Malmer, A., 2014. Effects of trees on infiltrability and preferential flow in two contrasting agroecosystems in Central America. Agric. Ecos. Envir. , 185-196.

http://dx.doi.org/10.1016/j.agee.2013.10.027

Charbonnier, F., le Maire, G., Dreyer, E., Casanoves, F., Christina, M., Dauzat, J., Eitel, J.U.H., Vaast, P., Vierling, L.A., Roupsard, O., 2013. Competition for light in heterogeneous canopies: Application of MAESTRA to a coffee (Coffea arabica L.) agroforestry system. Agricultural and Forest Meteorology 181, 152-169. http://dx.doi.org/10.1016/j.agrformet.2013.07.010

Gómez-Delgado, F., Roupsard, O., le Maire, G., Taugourdeau, S., Perez, A., van Oijen, M., Vaast, P., Rapidel, B., Harmand, J.M., Voltz, M., Bonnefond, J.M., Imbach, P., Moussa, R., 2010. Modelling the hydrological behaviour of a coffee agroforestry basin in Costa Rica. Hydrol. Earth Syst. Sci. 15, 369-392. www.hydrol-earth-syst-sci.net/15/369/2011/doi:10.5194/hess-15-369-2011

Prieto I, Roumet C, Cardinael R, Dupraz C, Jourdan C, Kim JH, Maeght JL, Mao Z, Pierret A, Portillo N, Roupsard O, Thammahacksa C, Stokes A. 2015. Root functional parameters along a land-use gradient: evidence of a community-level economics spectrum. Journal of Ecology, 103: 361-373. DOI : 10.1111/1365-2745.12351

Taugourdeau, S., le Maire, G., Avelino, J., Jones, J.R., Ramirez, L.G., Jara Quesada, M., Charbonnier, F., Gómez-Delgado, F., Harmand, J.-M., Rapidel, B., Vaast, P., Roupsard, O., 2014. Leaf area index as an indicator of ecosystem services and management practices: An application for coffee agroforestry. Agriculture, Ecosystems & Environment 192, 19-37. http://dx.doi.org/10.1016/j.agee.2014.1003.1042.

Contact
This email address is being protected from spambots. You need JavaScript enabled to view it.
CATIE 7170, Apartado 3, Cartago, Turrialba, Turrialba 30501 COSTA RICA
Cel. (506) 86 05 09 85, Fax. (506) 25 56 30 18