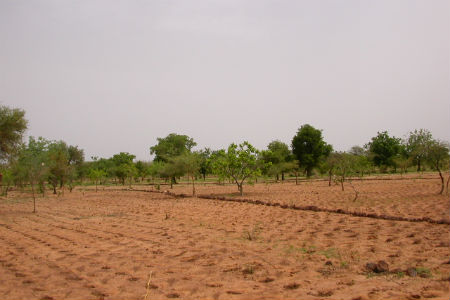 Eco&Sols est présente en Afrique de l'Ouest à travers le Laboratoire Mixte International « Intensification Ecologique des Sols Cultivés en Afrique de l'Ouest » ou LMI IESOL regroupant des équipes IRD, CIRAD, ISRA, UCAD, Université de Thiès, INERA (Sénégal) et Université de Ouagadougou (Burkina Faso).
Le LMI IESOL est une plateforme scientifique, technique, et de formation dans le domaine des Sciences du sol, pour une augmentation de la production agricole et la préservation de l'environnement. Son objectif est de contribuer au développement d'une ingénierie écologique pour la gestion durable des sols cultivés et des agrosystèmes et l'intensification de leur productivité.
Les thèmes de recherche d'Eco&Sols sont abordés en Afrique de l'Ouest dans
des systèmes agroforestiers où sont cultivées des céréales de zone sèche,
des systèmes pluviaux de cultures annuelles où prédominent des céréales en association avec des légumineuses, et
des systèmes périurbains où l'utilisation de produits résiduaires organiques est pratiquée pour la fertilisation de cultures maraîchères.
Quelques exemples dans quatre vidéos
A Dakar, Eco&Sols dispose d'un laboratoire de recherche situé sur le campus IRD/ISRA de Bel Air (le Laboratoire d'Ecologie Microbienne des Sols et Agrosystèmes Tropicaux, LEMSAT), certifié ISO9001, comprenant 3 ateliers thématiques qui permettent de caractériser l'état biologique des sols et d'évaluer l'impact des modes de gestion des sols sur la biodiversité microbienne :
Cet atelier axe ses activités sur le développement des outils moléculaires modernes permettant de caractériser l'état biologique des sols et des composés organiques. Les analyses sont réalisées par des techniques moléculaires spécifiques pour la caractérisation de la structure, de la diversité et de l'abondance de la biodiversité microbienne totale et fonctionnelle des sols

Equipement

2 thermocycleurs Applied Biosystems (PCR)
1 thermocycleur StepOne pour la PCR en temps réel
Cuves et Ingeny Système (fingerprinting, PCR-DGGE)
1 Spectrophotomètre NanoDrop 2000 (dosage des acides nucléiques)
1 Système d'acquisition d'image Gel Doc XR

Compétences

Extraction des acides nucléiques
Caractérisation de la structure des communautés microbiennes des sols (PCR-DGGE)
Caractérisation de la diversité des communautés microbiennes des sols (PCR, Clonage, Séquençage haut débit)
Caractérisation de l'abondance ou densité des communautés microbiennes des sols (PCR en temps reel: qPCR)
Expertise en Microbiologie du sol: Culture des bactéries et champignons telluriques

Animateurs

Mariama Gueye & Lamine Dieng
Cet atelier est consacré à la mesure et à la quantification des activités biologiques potentielles, d'éléments minéraux et de composés organiques dans les sols et végétaux. Les méthodes mises en œuvre vont des mesures d'activités enzymatiques globales, d'activités cataboliques, de minéralisation de C & N, d'acides gras phospholipidiques ainsi qu'aux analyses de caractérisation des matières organiques par solubilisation Van Soest.

Equipements

Analyseur en flux continu (Seal); mesure de N mineral: Ammonium (NH4-NO3), nitrates-Nitrites (NO3-NO2)
Spectrophotomètre (dosage enzymatique)
Chromatographes en phase gazeuse (respiration basale et PLFA)
Automatic methane potential test system

Compétences

Dosage d'N minéral
Biomasse microbienne (Fumigation – Extraction)
Dosage d'activités enzymatiques globales
Dosage des Phospholipid fatty acid (PLFA)
Fractionnement granulo-densimétrique de la matière organique
Respiration basale
Détermination de potentiel biométhanogène
Expertise en spectroscopie infrarouge (proche) pour l'étude des propriétés chimiques, biologiques et physiques du sol
Expertise dans la détermination du potentiel biométhanogène des substrats (Biogaz)

Animateurs

Moustapha Sané
Cet atelier est consacré à l'identification et au dénombrement des nématodes du sol. Les analyses portent également sur la caractérisation de leur densité et leur structure trophique.

Equipement

Elutriateur
Microscope

Compétences

Extraction des nématodes par élutriation
Fixation des nématodes au FPG
Identification et quantification de différents groupes trophiques

Animateurs

Omar Ba et Djibril Djigal
Eco&Sols s'appuie également à Dakar sur un laboratoire d'analyses, le LAMA (LAboratoire des Moyens Analytiques) de l'IRD (US191), qui réalise des analyses physico-chimiques "traditionnelles" de sols, d'eaux et de végétaux.
Projets menés en Afrique de l'Ouest
Partenaires
ISRA, Institut Sénégalais de Recherches Agricoles, Dr. Yacine Ndour
Université de Ouagadougou, Dr. Edmond Hien
UCAD, Université Cheick Anta Diop de Dakar
ENSA, Ecole Nationale Supérieure d'agriculture, Université de Thiès
INERA, Institut de l'Environnement et de Recherches Agricoles du Burkina Faso
CIRAD (www.cirad.fr)
IRD Sénégal, Burkina Faso
UGB, Université Gaston Berger de Saint Louis
Ohio State University (USA)
Université de Wageningen (NL)
Université Nangui Abrogoua, Abidjan
Publications
Bright M.B.H., Diedhiou I., Bayala R., Assigbetsé K., Chapuis-Lardy L., Ndour Y, R.P. Dick 2017 Long-term Piliostigma reticulatum intercropping in the Sahel: Crop productivity, carbon sequestration, nutrient cycling, and soil quality. Agriculture, Ecosystems and Environment 242 (2017) 9–22
Der S., E. Hien, K. Assigbetsé, J.J. Drevon & D. Masse 2016 Legume and cereal Cropping in Zaï System with different organo-mineral amendments – Productivity properties of degraded bare Alfisol in North Sudanian Zone of Burkina Faso. Tropicultura, 2016, 34, 1.
Diakhate S., M. Gueye, T. Chevallier, N.H. Diallo, K. Assigbetsé, J. Abadie, M. Diouf, D. Masse, M. Sembene, Y.B. Ndour, R.P. Dick, L. Chapuis-Lardy 2016 Soil microbial functional capacity and diversity in a millet-shrub intercropping system of semi-arid Senegal. Journal of Arid Environments 129 (2016) 71-79
Diallo-Diagne, N.H., Assigbetsé, K., Sall, S., Masse, D., Bonzi, M., Ndoye, I. and Chotte, J.L. 2016 Response of Soil Microbial Properties to Long-Term Application of Organic and Inorganic Amendments in a Tropical Soil (Saria, Burkina Faso). Open Journal of Soil Science, 6, 21-33.
Debenport, S.J., Assigbetsé K., Bayala R., Chapuis-Lardy L., Dick R.P., & B. B. McSpadden Gardener 2015 Shifting populations in the root-zone microbiome of millet associated with enhanced crop productivity in the Sahel. Appl. Environ. Microbiol. 81 (8) 2841-2851 doi:10.1128/ AEM.04122-14

Der Some, Edmond Hien, Komi Assigbetsé, Jean Jacques Drevon et Dominique Masse 2015 Dynamique des compartiments du carbone et de l'azote dans le sol cultivé en niébé et sorgho dans le système zaï en zone Nord soudanienne du Burkina Faso. Int. J. Biol. Chem. Sci. 9(2): 954-969.

Diallo M.D., Guisse A., Sall N., Dick R.P., Assigbetsé K., Dieng A. L. and J-L Chotte 2015 Influence of tropical leaf litters on N mineralization and community structure of ammonia-oxidizing bacteria. BASE : Biotechnol. Agron. Soc. Environ. 19(2), 173-183

Dieye Tidiane, Komi Assigbetsé, Ibrahima Diedhiou, Mbacké Sembène, Lamine Dieng, Mariama Gueye & Dominique Masse 2015 The effect of Jatropha curcas L. leaf litter decomposition on soil carbon and nitrogen status and bacterial community structure (Senegal). J. Soil Sci. Environ. Manage /08.10.15/0528.

Barthès B.G., Penche, A., Hien, E., Deleporte, P., Clermont-Dauphin, C., Cournac, L., Manlay, R.J. 2015 Effect of ramial wood amendment on sorghum production and topsoil quality in a Sudano-Sahelian ecosystem (central Burkina Faso). Agroforestry Systems 89: 81–93. doi:10.1007/s10457-014-9743-0

Deredjian A., Colinon C., Hien E., Brothier E., Youenou B., Cournoyer B., Dequiedt S., Hartmann A., Jolivet C., Houot S., Ranjard L., Saby N. P.A., Nazaret S. 2014 Low occurrence of Pseudomonas aeruginosa in agricultural soils with and without organic amendment. Frontiers in cellular and infection microbiology. doi: 10.3389/fcimb.2014.00053
Formation
Animation d'un module d'enseignement sur l'écologie fonctionnelle des sols au sein des masters BIOVEM, GEDAH et AFECA à l'Université Cheikh Anta Diop de Dakar.
Organisation périodique de l'école d'été MICROTROP (Advanced training in tropical microbiology for early career scientists: soil microbial ecology and ecosystem services), en 2012 et 2014 en partenariat avec UCAD, ISRA, OSU.
Coordonnés et contact
This email address is being protected from spambots. You need JavaScript enabled to view it.IRD Dakar
Tel: +221 33 849 36 4
adresse: Centre IRD-ISRA de Bel Air, BP 1386, 18524 DAKAR, SENEGAL